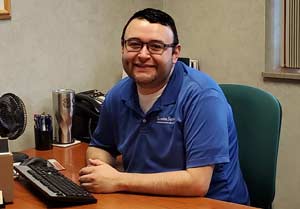 Before Eureka, what other jobs did you have?
Prior to working for Eureka Savings Bank, I held the position of President & CEO at the Mendota Area Chamber of Commerce from June 2014 through November of 2018. I have also worked as a supervisor at CVS/pharmacy, Store Manager at Movie Gallery, Inc., and the Assistant Manager at Family Video Movie Club.
What are your responsibilities at Eureka?
Here at Eureka I wear a few different hats. I am a member of the loan department where I serve as one of our loan officers. I am able to help our customers with personal loans, auto loans, and mortgage loans. Aside from originating loans, I am also in the collection department and work with delinquent customers. I am also the Assistant Branch Manager in our Mendota Office so I help with the day to day operations of our office.
Tell us a little about yourself outside of work?
When I'm not at work I like to have a good mix of staying home and relaxing by watching tv and movies (Pretty easy to do during a pandemic!) and being involved in the community as much as I can. I serve on the board of directors for the Mendota Area Chamber of Commerce, serve as Treasurer for North Central Illinois ARTworks, and am the lead volunteer for the American Cancer Society Cancer Action Network for the 16th Congressional District in Illinois. To say I like to stay busy is an understatement!
What kind of advice would you have for a soon to be college graduate?
If I had to give advice to someone who is going to graduate from college soon, I would say to use every experience as a learning experience and don't be afraid to ask questions. There are so many little things that happen in your everyday life that you can learn from and help yourself grow both personally and professionally. If you are ever unsure on how to complete a task or just want more information on why something is done a certain way, ask questions. I promise that a supervisor will appreciate you asking for help or will appreciate the fact that you want to learn more about your company and role.