Get to know Gina Keeney, Assistant V.P. and Teller Supervisor
Be grateful, be kind and learn from your mistakes and setbacks but don't dwell on them.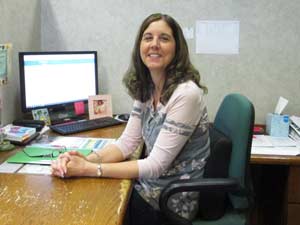 Before Eureka, what other jobs did you have?
Before my career here at Eureka, I was a teller and new accounts representative at another local bank.
What are your responsibilities at Eureka?
I have been here for 20 years. I am an Assistant Vice President and Teller Supervisor. I manager, train, and schedule all of our tellers. I am also responsible for all auto, homeowners, and flood insurance policies.
Tell us a little about yourself outside of work?
When I'm not at work, I love to read and have an extensive collection of books. I also love to spend time with my family, especially my new baby grand daughter.
What kind of advice would you have for a soon to be college graduate?
Always pay yourself first. It is important to save as much as you can with every paycheck.