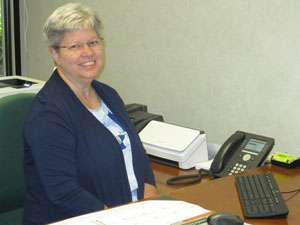 Before Eureka, what other jobs did you have?
I worked at Woolworths during a Christmas in high school. During college I worked at the Red Door Inn. Eureka was my internship for a college class and have been here pretty much thereafter.
What are your responsibilities at Eureka?
I am the supervisor of the customer service representatives. Customer service is helping customers through their banking needs. Assist CSRs with questions they or customers have. I check reports daily to make sure accounts are correct.
Tell us a little about yourself outside of work?
I am married and have two adult children. One child is married and has twin sons that are a joy to watch grow and experience everything for the first time. I like to quilt, go hiking, and take bike rides.
What kind of advice would you have for a soon to be college graduate?
When you get your paycheck don't forget to pay your savings account (just like a bill) for a rainy day. You will be grateful when that day happens. Save for retirement that day will also come. Just $20.00 a week adds up.